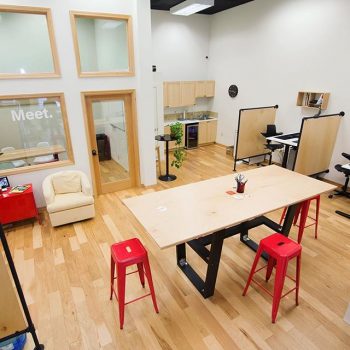 As of March 1, 2017, I've moved my office two blocks east and am now working at the Foundry in downtown Corvallis, Oregon.
Working at the Madison Ave. Collective was terrific. I love the people there and was fortunate to have been able to collaborate with seven of their designers over the last seven years to create many beautiful websites. However, the MAC transitioned a few years ago to a full-service creative agency and their designers are no longer available for collaboration. I've built some websites for the agency and may do more in the future, but at present my own client base keeps me too busy to take on more projects for them.
A few months ago, designer and friend Jonathan Kurten and his wife Tracy opened the Foundry co-working space. I've collaborated with Jonathan on several websites, including Seattle Unity Church, California's Planning and Conservation League, and two more sites that will launch this year. The Foundry membership also includes other free-lance designers and developers, enabling to give you more options for your next project. So a move to The Foundry just makes good sense. I'm looking forward to providing you great service from that location.
My new address is:
Donna McMaster
254 SW Madison Ave.
Corvallis OR 97333
My phone number and email address are of course unchanged:
541-738-2973
donna@donnamcmaster.com
You can find out more about The Foundry at their website: joinfoundry.com. I suggest giving me a call or email before dropping by, as I'll be working from home part of the time and haven't yet set regular office hours.
I also want to give a shout-out to the Madison Ave. Collective. I build good websites. The MAC builds great brands. Their team has been doing some fabulous work for businesses and organizations. So if you're looking for agency services such as branding, positioning, and content creation in addition to website design and development, I highly recommend them. Learn more at madcollective.com.
See you at The Foundry!
Donna